Welcome to review another massive bunch of practical UX design examples, this time covering user experience in the webspace. Check the variety of websites and landing pages recently designed by the Tubik team for the diversity of user goals and business objectives. Below you will find different styles and design approaches, interactive pages and creative graphics, smooth motion, and skillful use of photo and video content promoting various brands and products. In most cases, you'll also see how the websites are adjusted for mobile screens to make them work effectively on any device. Enjoy and get inspired!
Toy Shop Website
This web design project is lively and playful in the best traditions of childhood. Take a look at the playful and interactive ecommerce website selling natural and eco-friendly toys. Original typography, the perfect balance of photo and text content, engaging animation, and solid scannability build a positive user experience from the first scroll. To amplify the effect, the diverse yet harmonic color palette and playful shapes are used in the layout.



Fashion Brand Clothing Ecommerce
This light and neat ecommerce website was designed for a fashion brand selling its items online, going beyond the individual pieces of clothing but striving to give clients the opportunity to buy the united outfit. The design approach is based on a minimalist and airy layout with nothing distracting visitors from the beautiful and consistent photo content presenting the items and sharing the general style of the brand.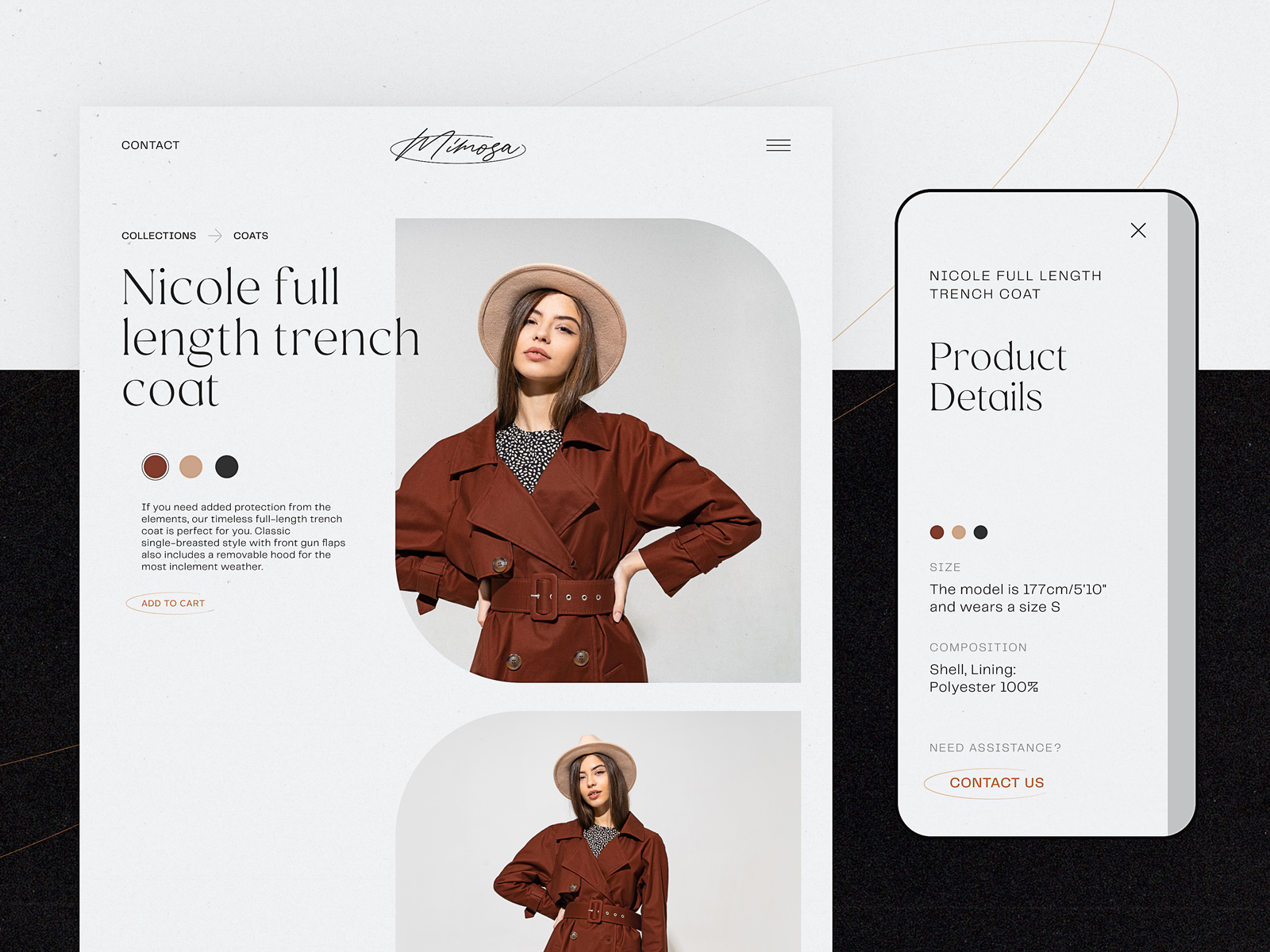 Yacht Hiring Website
Take a look at the website designed for the service allowing users to find and hire yachts. Atmospheric videos and beautiful photos, as well as the color palette, help visitors dive into the theme of sailing immediately. Interactive yacht visualizations assist in making the process of yacht choice both straightforward and fun, while sophisticated typography, functional color accents, smooth motion, and intuitive navigation make the web pages and their mobile adaptation attractive and easy to use.

Art Galleries Website
This elegant website concept is created to promote diverse art spots and events: here, visitors are provided with information about diverse art galleries and exhibitions in them. In this case, design plays with different types of contrast: prominent and bold taglines work shoulder to shoulder with neat and unobtrusive text blocks, the gallery of photos uses various shapes and sizes to attract visitor's attention, text elements employ different directions, various events and sections are marked with different colors, and different grids are used to present various content.
Stationery Shop Website
Here's a concept of the elegant and stylish ecommerce website for the stationery store, based on a minimalist approach and spiced with stylish and trendy 3D graphics. Prominent full-screen animated hero image sets the theme and catches the visitor's eye from the first seconds, originally framed menu in the header makes navigation intuitive, and airy layout allows for creating a positive atmosphere and mood out of quite a decent theme of office supplies.


Event Booking Website
This design concept gives you a look at the website that helps visitors choose and book various events and experiences. The home page is made highly functional, with the form allowing users to search the event in the above-the-fold area. In general, the website employs a variety of shapes and minor geometric elements and makes shape and color contrast the primary tool of expressiveness, supporting beautiful photo and video content.





Illusions Space Website
This artistic and catchy website allows visitors to learn about illusions space, where they can entertain themselves and dive into mysteries. Eye-catching glitch effect, visual noise, blurry images, torn edges of elements, original motion effects and patterns – all that together with sharp typographic and color contrast across the pages impress visitors, set the mysterious mood and strong emotional appeal, and don't leave any chance for this website to go unnoticed.
Cosmetics Ecommerce Website
This web design project is devoted to beauty care: take a glance at the e-commerce selling a variety of cosmetics and skincare products. The natural color palette, beautiful theme photo and video content, sophisticated typography supported with elegant shapes and lines all set the needed atmosphere and inform the visitor about benefits offered by the brand. Interaction with a catalog of goods is built on a horizontal scroll, and product pages use the split-screen layout clearly separating a product image from the information zone.

Chinese Restaurant Website
Here's the website designed to grow the Chinese restaurant's web presence, aiming to attract young guests. This design is bright and dynamic, using original grids, stylish photos, prominent and catchy text elements, and animated eye-pleasing details. Again, the approach of a split-screen layout is used, creating two zones on the page: one shares the photo and sets the mood, while another allows the visitor to quickly scan all the needed information or interact with the menu.


Furniture Studio Website
This web design concept is done to strengthen the web presence and marketing of the company producing exclusive and original furniture, mostly in parametric style. The layout features eye-pleasing images, original illustrations, and smooth curves with text content packed into sophisticated typography to echo the elegance as the essence of the brand. The palette is built on deeply natural colors creating a homey cozy mood, and the color contrast is used as the way to separate various sections of the pages or distinguish pages from each other.

Shipping Company Website
Here's the website for the company providing shipping and distribution services. Limited color palette with bright, catchy accents, animated 3D hero image, and solid, readable typography – that's what the design uses to transfer the message about the service benefits and reliability and impress the visitors. The website also uses an engaging interactive map animation.



Virtual Reality Rooms Website
This web design project is for VR rooms service, allowing visitors to experience virtual adventures. To set the needed mood at once, the design employs dark background, neon effects, captivating photos and videos, and a solid visual hierarchy to catch major information from first sight.


Underwear Brand Ecommerce Website
This e-commerce website helps the beautiful underwear brand to set its image and grow its sales. This design uses the elegance of contrasting fonts and the passion of red to set the mood and help the photos of goods look even more attractive. Visual dividers, directional cues, and noticeable CTA elements help the shoppers to navigate easily through the purchase process.

Party Drink Landing Page
This landing page is targeted at young and active people and promotes a brand of party drinks, and it obviously fills each second with party vibes. The bright color palette, smooth engaging scroll, and motion graphics work well together with bright branded images of the drink cans as the main element of the layout composition. Tags help to make the process of choice interactive.

Software Development Company Website
Here's the web design for the company providing services on software, app, and web development. The layout is solid and informative but not overloading: bold tagline, readable and concise description text, eye-pleasing abstract 3D images, noticeable CTA, and a well-balanced visual hierarchy make the pages clear, elegant, and emotionally appealing.






Adult Toys Website
Toys are believed to be only for kids, but in fact, adults are much more diverse in choosing them, the difference is that adults prefer playing them behind closed doors. That's what inspired our daring and obviously sexy web design concept for the adult toys ecommerce website, based on the neat balance of elegance, style, and emotional appeal in each and every detail.


Gardening Company Website
Take a look at a website design concept for the company producing a variety of plants and flowers in its own greenhouses and gardening sites and selling them online. All the factors of visual communication set the atmosphere and support the sphere of professional activity: color palette, atmospheric video and aesthetic photos, solid visual hierarchy allowing to scan the pages quickly, and elegant typography make the website both informative and emotionally appealing.




Winter Holidays Website
Take a look at atmospheric web design for the service helping to book accommodation and build routes for amazing winter holidays. The visitors dive into the magic of winter instantly due to the breathtaking video content naturally integrated into a minimalistic and airy web layout.
Niche Perfume Ecommerce Website
Have a look at another web page for the ecommerce website designed for a company selling exclusive and niche perfumes. Dark full-screen photo and video backgrounds, well-balanced minimalist layout, elegant graphic details, smooth animation, and sophisticated font choice instantly set the style and mood.


Juice Brand Ecommerce Website
This web design will add a pinch of juicy brightness to your day. Here's an eye-catching website created to promote a brand of natural juices. Vibrant colors, lovely photos, prominent product presentation supported with smooth motion make the page lively, engaging and sending a positive message for the customers.
Clothing Brand Website
This web design project is devoted to comfort and fashion mixed together. Take a look at the elegant website for a clothes brand. Here the design approach features functional minimalism, experiments with grids and typography, and prominent photo content capturing visitors' attention. Special graphic detail imitating thread also adds a little hint on the theme of fashion and sewing, as well as unites different sections and pages into one integral flow.



Interior Decor Ecommerce Website
This web design concept is full of elegance and style: it's made for the cozy ecommerce website selling various interior décor and accessories. Functional minimalism, limited and well-balanced color palette, readable sophisticated typography and stylish prominent images to present the products make the customer experience engaging and focused on the offer.


Cleaning Company Website
Here's the web design concept wrapping quite a decent everyday service into a unique image. This website is devoted to the theme of cleaning and comfort presenting the cleaning company, and it's quite far from common for this market segment. The unusual color palette, highly readable fonts, super engaging hero animation that shares the idea of transforming chaos into order and cleanliness, and the diversity of interesting motion effects throughout the website help to impress visitors and make the communication with potential clients emotional.
New web and mobile design collections from our team are coming soon – don't miss the updates!
Tubik Design Collections
If you want to check more creative sets of the web, app, and graphic design examples, here are some of them.
Mobile Design: 14 Stylish and User-Friendly App Design Concepts
Design for Sales: 10 Creative UI Designs for Ecommerce
Save the Planet: Web Designs on Environment and Ecological Issues
Steal the Show: Creative Web Design for Diverse Events
Web Design: 26 Examples of Creative Landing Pages
UI in Volume: 3D Graphics in Creative UI Design Concepts
Logofolio: 16 Logo Designs for Different Business Goals
9 Eye-Catching Web Interfaces with Bright Graphics