With the growing diversity of mobile applications, users are getting more and more options to use them for various personal and professional needs, from effective calendars, trackers, and recipe apps to inventory dashboards, e-commerce, and finance management. And user experience designers think over new approaches, solutions, and interactions to make mobile apps easy to use and handy. Let us share another big bunch of practical design examples, this time on mobile user experience: check the apps designed for the diversity of user goals by the tubik team. Have fun and get inspired!
Task Manager App
Having a life full of various things to do, we try to find the best way to organize them all neatly, and task manager apps become a great help. Here's a glance at the design for one of them. With it, users can create multiple calendars, plan their tasks, and enjoy a simple aesthetic interface. Color marking helps to quickly monitor tasks from different calendars, while the dark theme supports the good balance of contrast to make text and bright color accents deep, scannable, and avoiding eye strain in any environment of usage.




Calorie Tracker App
Those who care about being fit know what a big part healthy eating plays. Today, there are numerous apps helping people track their eating habits and analyze their influence on weight and well-being, yet we want to add our two cents to this theme. So, here's the user interface designed for the app calculating calories and giving users a better understanding of the essence of food they consume. Airy light interface with fresh green as the main color in the warm app palette, custom illustrations, and smooth animations make the app user-friendly, attractive and engaging. But what UX designers put the most effort into is data visualization, allowing users to get confident about their stats and progress.

Exotic Fruit Ecommerce App
This mobile user interface design project is full of juicy colors and tasty looks. Take a look at the product screens designed for the e-commerce mobile application for buying various exotic fruit. Eye-pleasing, clear, and readable screens with prominent and attractive product images and contrasting call-to-action buttons are all aimed at making the choice and purchase process easy. Bright color marker gives the user a prompt that the shopping bag already has something added, special tab helps to choose the number of items quickly, just tapping on the slots and seeing the price changed immediately. An engaging and artistic main screen with custom illustrations of fruit allows for choosing a product right from there.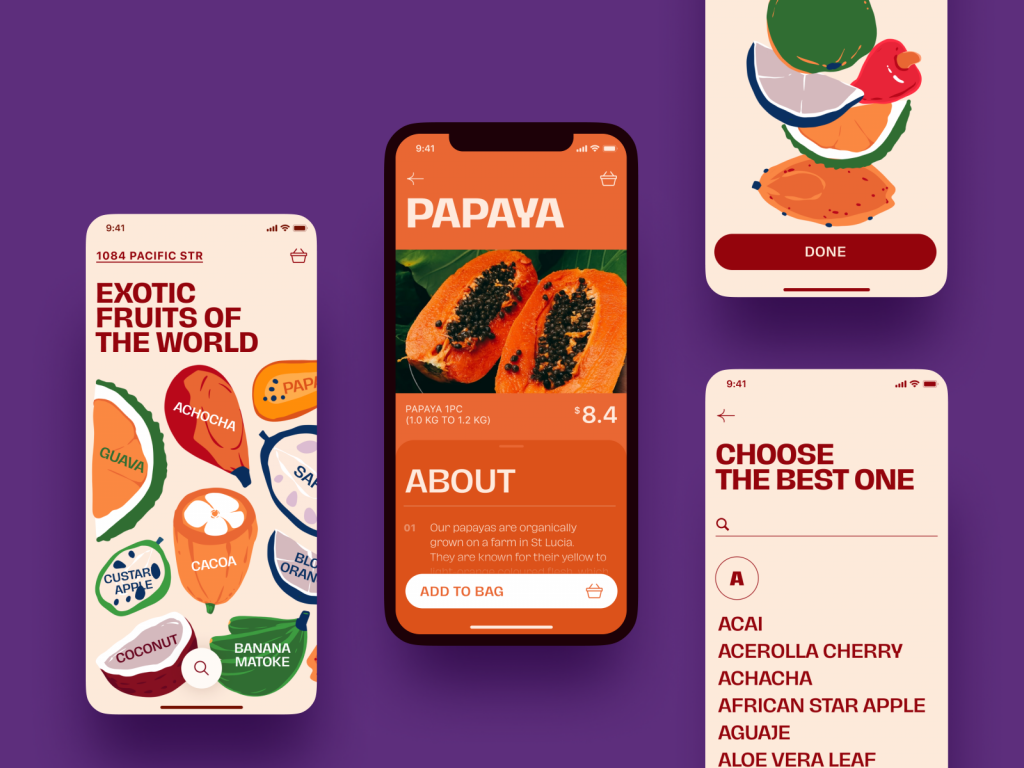 Cloud Storage App
Here you can take a glance at the design for a mobile app that offers a sort of cloud storage, nice and clean in the best traditions. The primary goal of design for such products is making them super intuitive and usable, with no distraction from content users interact with, but also aesthetic and eye-pleasing.



Drink Recipes App
This app design is filled with the vibes of a party or relaxation after a hard day. Here's a mobile application with a big base of recipes and guides on how to make various soft and alcoholic drinks. The dark background sets the atmosphere of a bar or restaurant and adds depth and elegance to the photo and video content. Solid visual hierarchy, intuitive navigation, and data visualization help users feel confident.

Personal Challenges App
One of the interesting opportunities the modern world offers to us is various challenges that can be done remotely and supported by coaches from different corners of the world. Here's a bit of app design devoted right to that theme. That's a set of interactions for a mobile application helping people take various challenges online and boost their skills, knowledge, health, and fitness. It's easy to see that elegance, readability, and usability were top priorities in the design process.

Quotes App
This UI design concept is about wisdom and inspiration packed together. Here's the set of interactions for a minimalist and elegant Quotes App, the mobile application allowing users to collect wise thoughts and ideas from different sources.
Task Tracker App
Take a look at the user interface design for a task tracker that helps users to schedule and track various tasks, events, and things to do, this way increasing their productivity. An elegant and usable balance of dark and light backgrounds, lovely color accents, animated illustrations, onboarding, a variety of stats, clear transitions, and solid readability make the interface both handy and beautiful.


Finance Tracker App
This design project is devoted to money and finance. Here's the finance tracker app that helps users to manage their incomes and expenses. Design solutions for this mobile application feature the dark theme, wise and balanced inclusions of custom catchy graphics, strong readability, and thought-out color accents for clear data visualization. Another thing worth attention is well-crafted and engaging UI animation.

Fitness Tracker App
Progress owes much to self-control, and in its turn, self-control is stronger when you are aware of what is going on. Here's the design project whose aim is to help users keep their fingers on their health and fitness: that's the Fitness App, with a personalized choice between a trendy dark theme and airy light theme, simple, clear, legible data visualization, highly intuitive navigation and eye-pleasing smooth UI animation for different states and clear communication between the app and its user.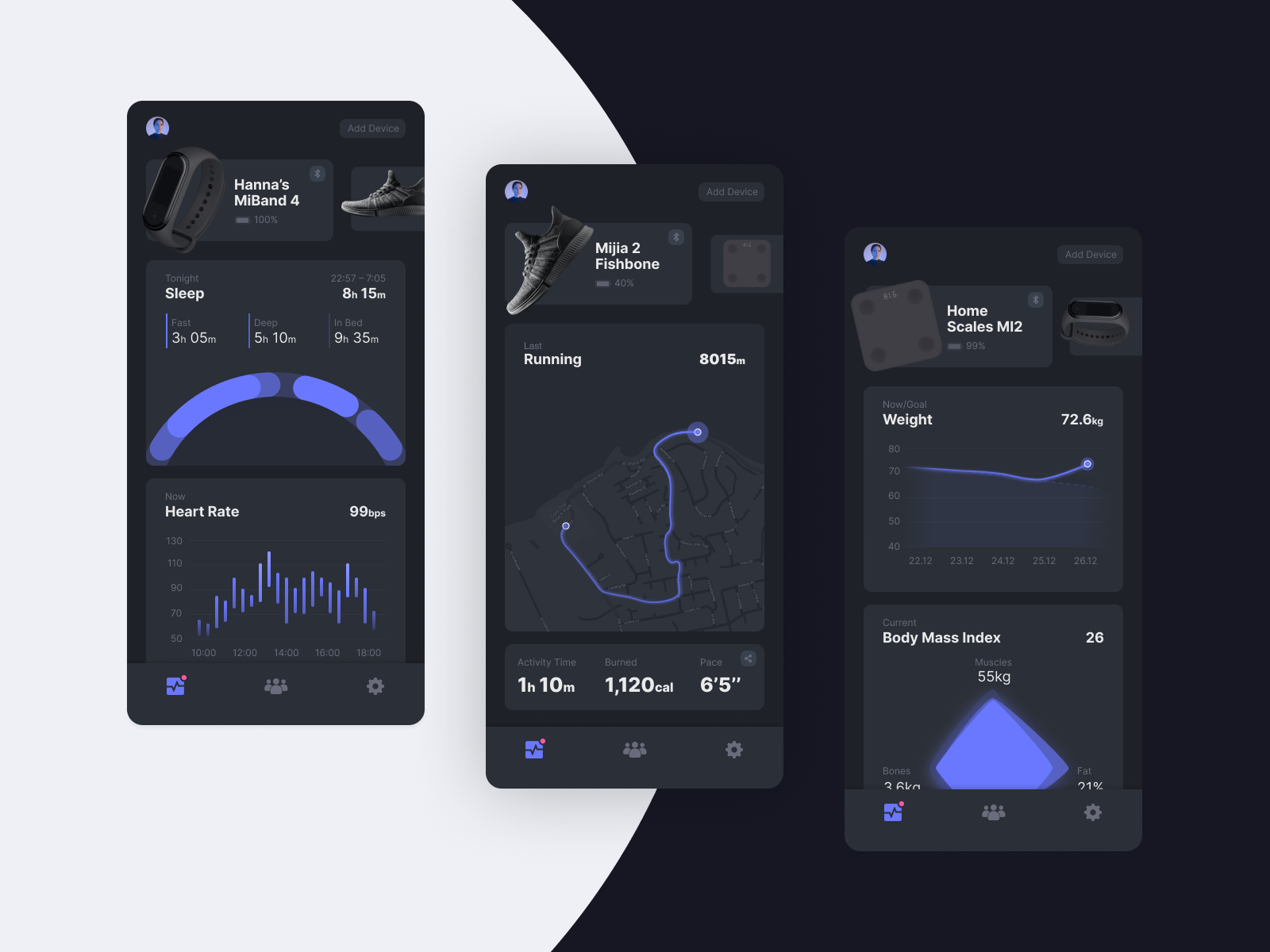 Event App
Being sociable is not only fun and joy but also a challenge for your responsibility. Sometimes, it's not that easy to keep everything in mind. Here's the app solving that problem. That's a simple mobile application for scheduling, keeping, and tracking events. It is aimed at young people as the core target audience, which determined the bright and trendy visual style as well as a catchy custom illustration used as loading animation.

Bees And Honey App
This app is about the sweetness and hard work combined together. It's all about bees. Here's a sneak peek at some mobile screens of the app that lets users buy and hire bee families as well as get some products and useful information connected to the theme. Another interesting design feature to attract the user's attention is the playfully illustrated onboarding screens setting a friendly mood and tone of voice from the first contact with a user.


Gallery App
"Art is not a mirror held up to reality but a hammer with which to shape it", Bertolt Brecht once said, and it doesn't change with time and generations. Whatever progress is achieved, whatever technologies are invented, art still remains one of the biggest sources of inspiration, education, and motivation for mankind. More and more apps are rising to support it, and this app design continues showing you one of a kind.
This is a UI design concept for a gallery app performing the artworks by modern artists. The artists can sell their artworks here while visitors are able to choose the picture they would like to buy or just enjoy the variety of art. Sure, all the navigation and composition of the layout are built around visuals performed on the dark background to show them in the best light and supported with an asymmetric grid and smooth motion.

Bar Inventory App
This mobile user interface concept is about increasing the efficiency and productivity of bar workers. The app that is connected to the special scales quickly informs the users how much drink is left in the bottle opened before. This way, the process of inventory is made much faster, easier, and more intuitive. So, the interface is focused on clear navigation and the ability to use the app in a variety of environments.
New web and mobile design collections from our team are coming soon – don't miss the updates!
Tubik Design Collections
If you want to check more creative sets of web, app, and graphic design examples, here are some of them.
Design for Sales: 10 Creative UI Designs for Ecommerce
Information Beautified: Media and Editorial Website Designs
UX Design for Traveling: Impressive Web Design Concepts
23 Impressive Web Design Concepts for Various Business Objectives
Save the Planet: Web Designs on Environment and Ecological Issues
App Design Ideas: 7 Nifty Mobile Application Design Projects
Steal the Show: Creative Web Design for Diverse Events
Web Design: 26 Examples of Creative Landing Pages
UI in Volume: 3D Graphics in Creative UI Design Concepts
Logofolio: 16 Logo Designs for Different Business Goals
9 Eye-Catching Web Interfaces with Bright Graphics
Web Design: 16 Basic Types of Web Pages