There is the season of a year when people get closer, the fire gets warmer and brighter, love gets deeper and gifts are the most precious. The time, loved by people all over the world for its magic and special spirit. The time, when we believe in fairy-tales and build new dreams and hopes for the future. Christmas time.
Christmas is almost here, bringing good cheer and sweet moments. Surely, we couldn't stay on the sidelines of the holiday atmosphere around and presented a bunch of festive designs on Dribbble and Behance. Today, with the warmest greetings and best wishes to our readers, we'd also like to share this bright set here. 
Handcrafted Christmas lettering

This hand-written lettering was created by a Tubik Studio designer to congratulate everyone with a bright Christmas gift: it got into original free wallpapers for iPhones and desktops. 
Holiday characters

This digital artwork presents the original version of three winter holiday characters loved and known all over the world: Santa Claus, his elf, and Rudolph the Reindeer. They are designed in the artistic manner of digital flat illustration and catch the most prominent details transferring the nature and mood of every character as well as making them instantly recognizable.
Christmas Magic App UI

Have you ever wondered if there is a magic Christmas app including all kinds of stuff you would like to do? Here it is! This is the design concept of the app collecting variety of tips about decorations, recipes, gifts, and tons of other things for winter holidays. Everything to set the magic right in your hand. You can also check out the full Christmas Magic pack with interface design, icons, and illustrations on Behance.
Christmas Eve Illustration

This artwork presents a flat illustration full of details and decorations usually associated with the Christmas season: Christmas tree, flashlights, ornaments, stockings on the fireplace, bells, candy canes, and sweets. For many people they are vital to feeling the atmosphere of bright and festive Christmas Eve, that's why such thorough attention was paid to all the composition and its details.
Merry Christmas Illustration Pack

Here is another pack of flat illustrations featuring bright Christmas details. Everyone knows: when it comes to winter holidays, it's never enough decorations!
Christmas Spirit Illustration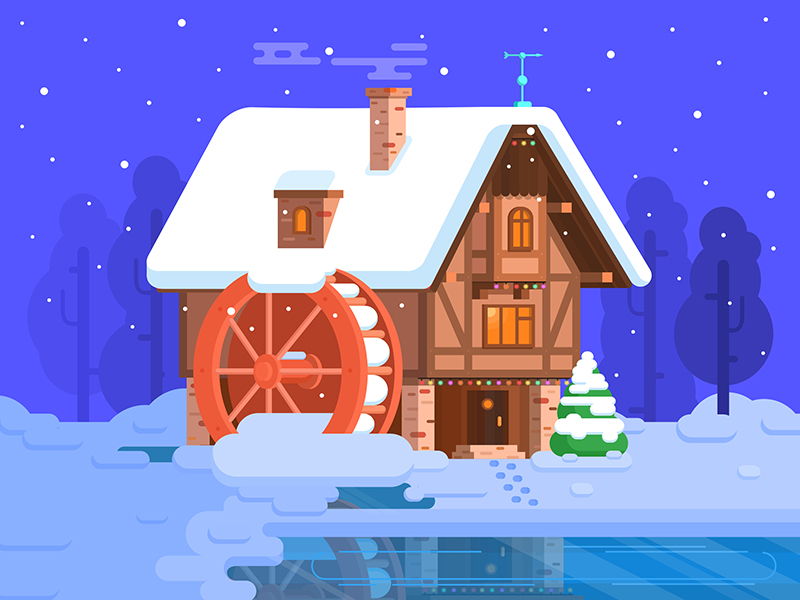 One more illustration called Christmas Spirit allows us to dive deep into the atmosphere of this long-awaited, amazing, and enjoyable part of the winter season.
With all our heart, the Tubik team wishes you nice and peaceful holidays, a tasty feast, cheerful parties, bright gifts, and unbelievable meetings. Catch the vibe, guys! Merry Christmas!
Illustration Collections
If you want to see more collections of illustrations by our team, here's the set of posts for you.
White Christmas in Digital Art: Collection of Merry Christmas Images
Nova Post Advent Calendar. UI/UX Design and Christmas 3D Art
Albert's. Christmas Cookies Packaging Design
15 Illustrations to Share Winter Beauty and Christmas Magic
Human Medley: 30+ Bright and Stylish People Illustrations
Book Illustrations for Visual Storytelling
Mastering Lines: 20+ Elegant Line Art Illustrations
Art of Seasons: 30+ Bright Illustrations Inspired by Nature
Animal World: 4 Beautiful Illustration Sets About Wildlife and Pets
Life in Pandemic Times: Theme Illustrations and Graphic Design Project
In Search of Illustration: Design Process for Illustration Set
20+ Atmospheric Digital Illustrations: From Landscapes to City Views