Illustration is not only the way to add beauty and mood to any project. It's also a great way to set off on an artistic journey and travel around a variety of places shown through the illustrators' perception. That's what we invite you to do with our team today: here we've collected an inspiring bunch of atmospheric illustrations by our digital artists. Here you'll find a variety of styles, environments, seasons, and stories to imagine behind each artwork. Join and enjoy it!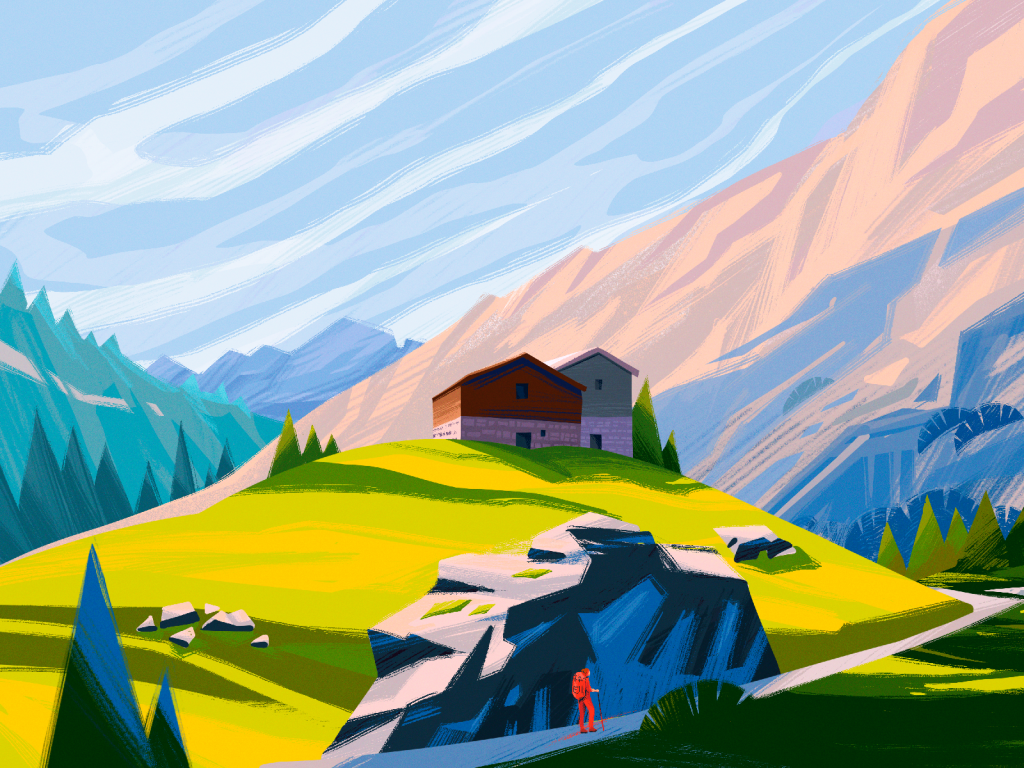 Let's start our artistic journey from the Swiss landscapes: feel the majestic isolation vibe in the gorgeous Pennine Alps.


Another glance at Switzerland is an illustration featuring picturesque Valle Verzasca.


The collection of Swiss views is continued by Rigi Railways landscape.


And one more digital landscape features a painting of the Rhaetian Alps.


Another artistic trip invites the viewer to enjoy the Norwegian landscapes, like a quiet village by the fjord in this illustration.


Here's another digital artwork with Norwegian vibes sharing the vibes of bright life in the village full of green shades and picturesque surroundings.


One more view on different shades of green in Norway.


Another artistic destination is easy to guess: sure, this illustration shows springtime in the Netherlands with their iconic windmills.


This illustration gives a look at spring Amsterdam full of bright colors and impressive architecture.


This art is filled with the atmosphere of city life, the mood of sweet moments and feelings in a favorite cafe.


This artwork is up to share the silent majesty of mountains, the calmness of pastel palette, and the confidence of the sheep making her way in the place where civilization meets nature.


This illustration is sharing the spring vibes of blossoming sakura which this hard year is going to miss the crowds of delighted people. Yet, let's believe in the invincible power of spring and care about each other more than ever.


Another illustration to share a pinch of spring mood and atmosphere.


The digital artwork in a limited color palette and still composition to reflect the mood of sunset at the riverside.


Another artistic view on the river boat,  yet in a different season and from a different perspective.


"Lighthouses are endlessly suggestive signifiers of both human isolation and our ultimate connectedness to each other" Virginia Woolf once said. And this illustration, atmospheric and fantastic a bit is here to share this beamy vibe in digital art.


Feel the magical and mysterious silence of forest in this atmospheric illustration. It is one for the series of artworks featuring architecture integrated harmonically into the natural environment, check the others below.


"And into the forest I go, to lose my mind and find my soul" the famous environmentalist and naturalist John Muir once said. We all need to recharge now and then, and getting back to nature is one of the most effective ways for many people. That is the idea share in this artwork. Feel the magnificent power of the forest and the magic of the house harmonically built-in into it.


Catch the contrasts of autumn with its dark colors, deep shadows, long evenings, and melancholic mood.


Another piece of digital art to feature the atmosphere of cozy isolation diving deep in nature.


Winter seems to uncover the fresh blank page and open the new horizons. It seems to be the time when our inner children wake up with the first snow outside. Who knows what stories our winter walks will bring? That's the mood to share with this crispy snowy illustration.


Feel the power of contrasts in this illustration: the silence of winter countryside, the magnificence of the winter forest, and the bright spot of a futuristic red house in the middle of nowhere. Who knows, perhaps the modern Santa Claus would choose such a residence.


The issue of alternative power sources and green energy safe for the planet is one of the hottest problems now, arising multiple innovations and new products. Our today's illustration is also devoted to that theme. This atmospheric digital artwork was created as a hero image for a website of the company that provides services in new-age sustainable energy production, consumption, and distribution.


Another atmospheric illustration to share different shades of autumn warmth and brightness.


"We owe it to our children to be better stewards of the environment. The alternative? A world without whales. It's too terrible to imagine". Pierce Brosnan once said, and it's impossible to disagree. This digital artwork also features a whale, a great and majestic creature presented to humanity by nature. It's just a little graphic fantasy on whale coming home and feeling cozy. Feel the magic!
Illustration Collections and Digital Art Case Studies
If you want to see more collections of illustrations or discover how they work in particular design projects, here's the set of posts for you.
Moonworkers. Digital Illustrations on Film Production
Quisine. Branding Design for Food Delivery Service
Dicey. Logo and Mascot Design for Party Game
MYWONY. Storytelling with Brand Intro Design
Florence App. Illustrations for Healthcare Service
Tubik in Paris. Design Process for Narrative Illustration
Winter Olympics Illustration. Step-by-Step Process
Digital Art: 40+ Inspiring Illustrations on Diverse Themes
24 Elaborate Flat Illustrations for Your Inspiration
26 Digital Artworks About Design Process
---
Welcome to check designs by Tubik on Dribbble and Behance; explore the gallery of 2D and 3D art by Tubik Arts on Dribbble
All the images in the article belong to Tubik Studio and cannot be used anywhere without permission and link to the original resource