In modern design, illustration is much more than just a piece of beauty added to the project. Pictures in different styles illustrate processes and tasks, add mood and atmosphere, and set a strong emotional and aesthetic appeal. It's been a while since we shared fresh graphics here in Tubik Blog, so it's time to show you a new pack of digital artworks from our team. The illustrations were created for different projects and tasks: landing pages, blog articles and websites, promo campaigns, celebrations and seasonal offers, presentations, and mobile apps. Most of the illustrations are created with Procreate and Photoshop. Welcome to enjoy and get inspired!
Nature and Landscape Illustration
The first pack of digital paintings is devoted to the theme of nature: here, you'll see atmospheric landscape illustrations, animals, plants, and the change of seasons. Also, some of the illustrations here reflect the theme of architecture integrated harmonically into nature.

Cozy isolation of the evening forest

Autumn woods and lovely cabin to get away from the hustle and bustle of the city

Autumn contrasts

Forest mystery art

River sunset

Autumn boat


Nature harmony illustrations for the website devoted to zero-waste living

Winter vibes and red house

Fall landscape illustration of the cozy countryside

Lighthouse and a bit of fairytale

The illustration created as a hero image for the landing page of the environment protection community

Spring rabbit sharing the mood

Artistic fantasy illustration about the whale at home
Food Illustration
Another pack of 2D artworks that is now in progress presents the theme illustrations showing different food.

Italian food illustration

Mexican food illustration

Asian food illustration

Thanksgiving Dinner illustration
Holidays and Celebrations
Various holidays and celebrations always present a good reason for a fresh piece of art. This set is all about festive vibes.

Christmas mood artwork
Theme illustrations making up a cute cartoon of a New Year party in the forest

Artwork about Christmas shopping and choosing presents

Funny zombies for Halloween illustration

Christmas magic vibes

Funny Halloween characters presented in catchy experimental style

Cute art sharing the process of autumn decoration 
Sports and Activities
One more popular theme for illustrations is sports and various activities. The artworks of this kind are often integrated into web pages for events, articles, marketing campaigns or ecommerce in this sphere.

Cycling illustration

Tennis player illustration

Yoga artwork

Swimming illustration

Skating illustration

Skateboarding illustration

The visual metaphor of creative teamwork reflected in the illustration with basketball players
People Illustration
Diversity of people – that seems to be the most popular theme for the digital art covering business goals. Various characters and plots are integrated into web and mobile interfaces giving the interactions human face this way. Illustrations make the message eye-pleasing and emotional, they are quickly perceived and highly effective in strengthening scannability and solid visual hierarchy of both digital and print products. The set below features people in different environments, situations, styles, and moods. It also includes a couple of arts created for the projects devoted to famous people.

The creative process of the architect in 2D art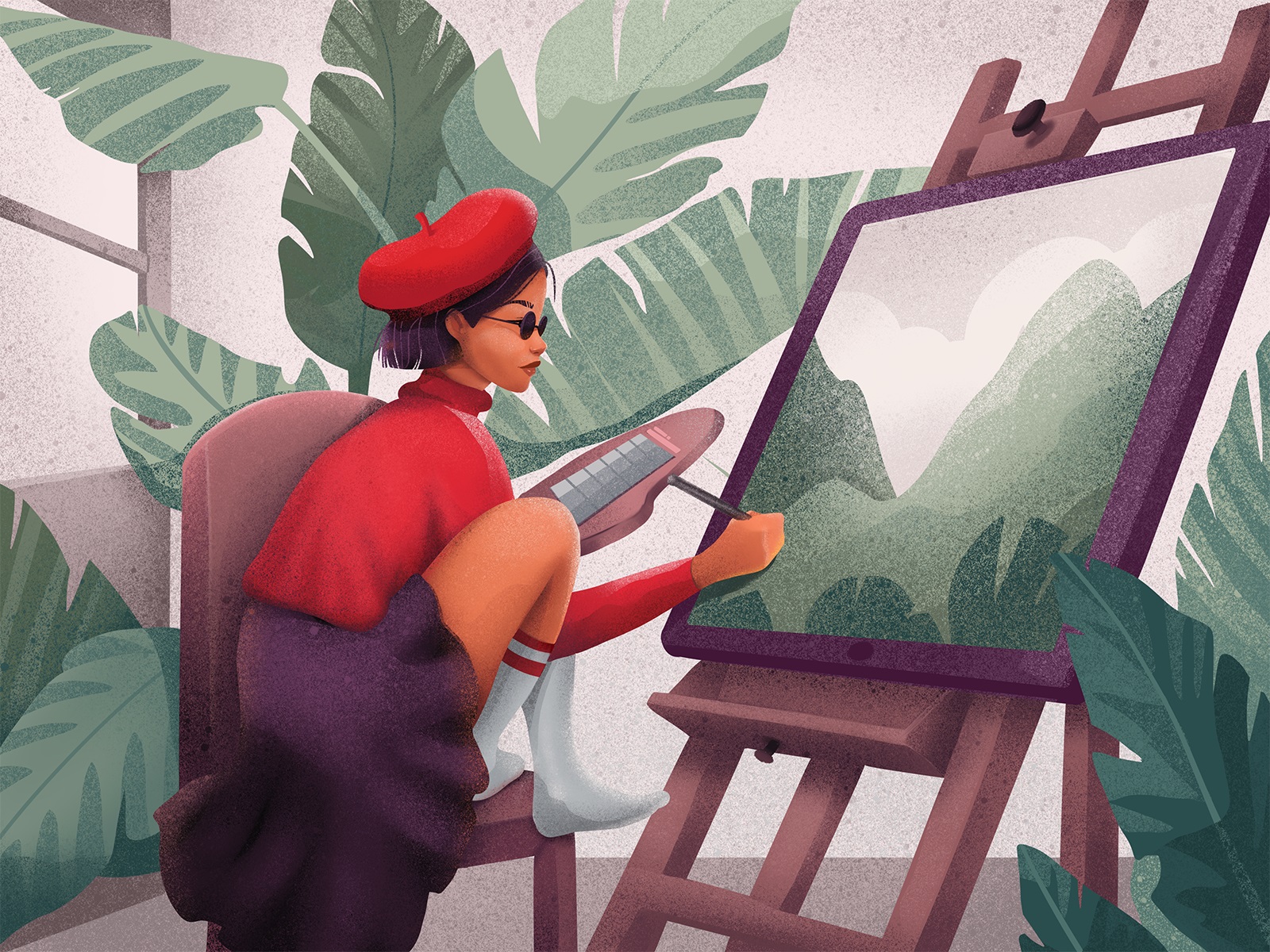 Artist back to the wild

Shoppers united in a dynamic composition in the illustration devoted to Black Friday

The illustration featuring passengers waiting for their flights

Forever young

Summer mood

Digital painting with Japanese motifs

Theme illustration reflecting the idea of messaging whirlpool as a part of our daily life

Theme illustration for the landing page of a photo-sharing application

Theme illustration about air traveling created for the landing page of the luggage delivery service

Traveling and holiday vibes shared with funny characters in experimental style

Theme illustration for the blog devoted to a healthy life

Communication and teamwork in one digital illustration

Theme illustration used as a hero image for the landing page of the productivity service

Illustrations created as a title image for the design article about readability

Theme illustration for the website of the tea club

Chill out night artwork

The atmospheric interior illustration hiding the character into the mirror reflection

Cinema fan

Artsy outfit for a character

Digital portrait of the famous film director Stanley Kubrick was used as a part of social media promotion for the Kubrick Life website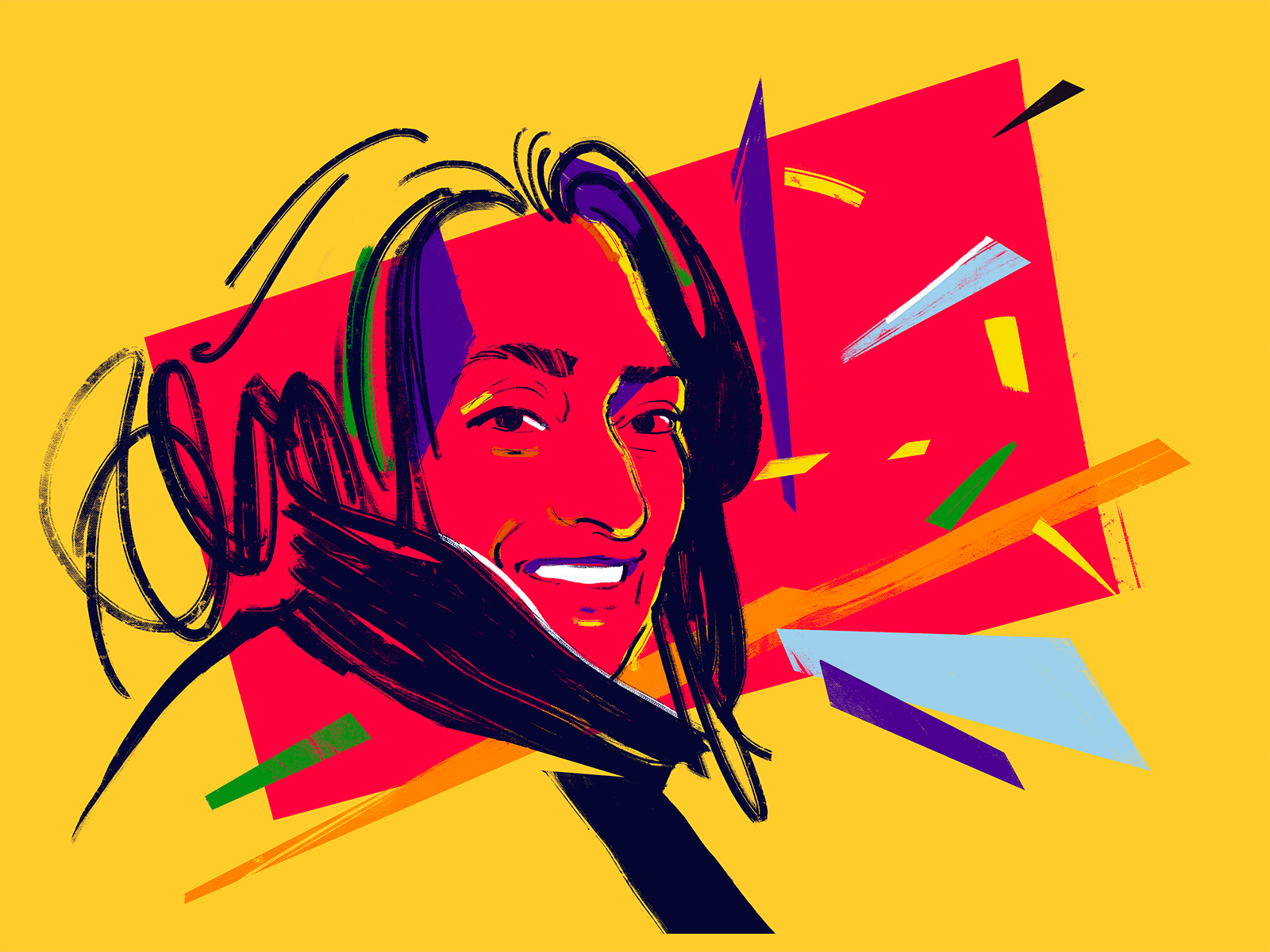 Artistic digital portrait of Zaha Hadid for the online magazine devoted to architecture

Stylized fan art on John Coffey, the character from the Green Mile
Illustration Collections and Digital Art Case Studies
If you want to see more collections of illustrations or discover how they work in particular design projects, here's the set of posts for you.
World Humanitarian Day. Illustrations and Video for United Nations
Moonworkers. Digital Illustrations on Film Production
Quisine. Branding Design for Food Delivery Service
Dicey. Logo and Mascot Design for Party Game
MYWONY. Storytelling with Brand Intro Design
Florence App. Illustrations for Healthcare Service
Tubik in Paris. Design Process for Narrative Illustration
Winter Olympics Illustration. Step-by-Step Process
Real Racing. Graphic Design for Mobile Game
24 Elaborate Flat Illustrations for Your Inspiration
26 Digital Artworks About Design Process
Fulfill. Illustrations and Web Design for 3PLs Marketplace
Roebuck. Mobile Design and Illustrations for Educational App