They say that winter is a cold, bland, and monochrome season. Yet, it only is you want it that way. For many people, winter is the time of freshness and subtlety. It teaches us to see the slightest hues, to feel the nuances, to heat the silence and to believe in magic. No doubt, it's a super inspiring season for illustrators and digital artists. So, to share that mood and atmosphere, we've collected the set of artworks full of winter beauty and Christmas magic, made by Tubik Arts illustrators. Enjoy and get inspired!
Winter Landscapes
Snow, frost, fresh air, and clear sky. Long nights, deep shadows, crusty whiteness, a hundred shades, and hues. All that is about the illustrations inspired by nature views and landscapes covered in winter beauty.

Crispy snow, glary whiteness, geometric beauty of the building, and a couple of children setting the lovely color contrast with their bright outfits – looks like walking in a winter wonderland.

Winter nights are long and cozy: the shadows get longer, the light gets warmer, with the time that seems to get slower and feelings that reach deeper.

The illustration combining the beauty of untouched winter forest and quite futuristic architecture, looking even more impressive in such surroundings.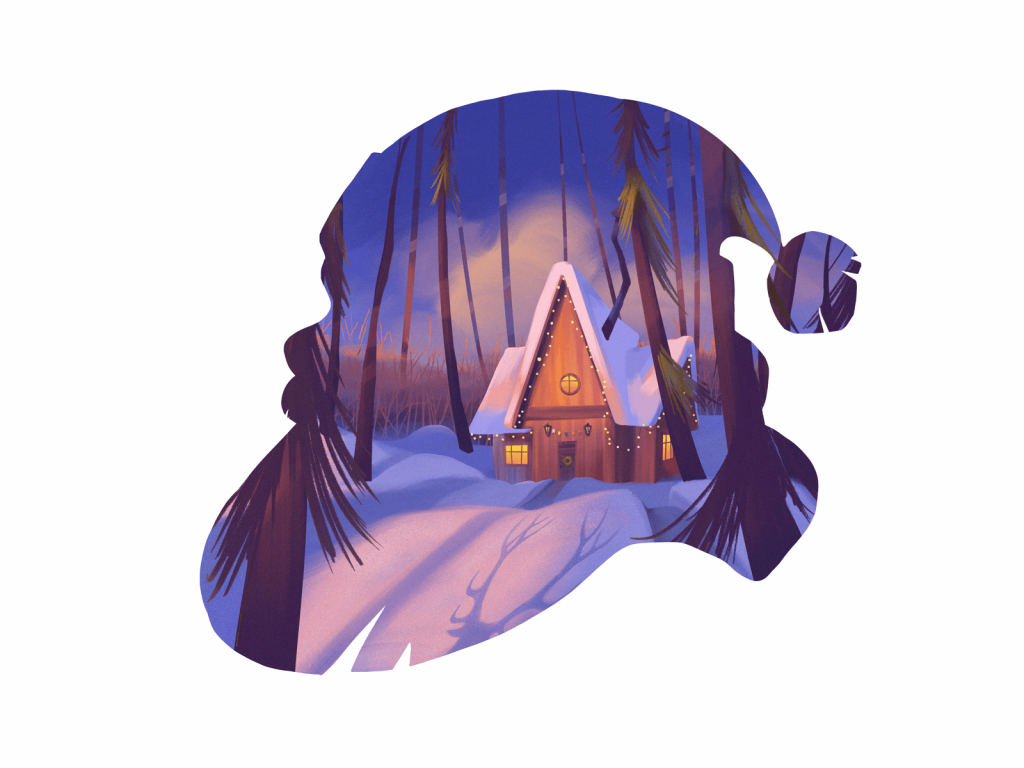 Here's the digital artwork playing off with the negative space and creates the mood of Christmas coming soon: the lovely and cute cottage in the forest, covered with snow and decorated with flashlights, is elegantly integrated into the silhouette of Santa Claus.
Cute Christmas Characters
For many people, even very serious and "adult" in their daily life, Christmas is the time of cuteness. So, December is the time when graphic designers and illustrators are super productive in breathing life into the diversity of funny animals and creatures sharing festive mood.
What if animals have their own Christmas parties – that's the idea behind the short animated cartoon

When one illustration is a whole Christmas story: far far away, there is a place where winter is cozy, the air is fresh, and Mother Polar Bear tells her Baby Bear a fairytale about the weird and funny creatures called people…


The funny Yeti and cute CrocoSanta are just perfect to share the Christmas mood as mascots for a game, book or cartoon characters, as well as seasonal graphics for packaging, Christmas cards, or landing pages.
People
Who creates a holiday mood and enjoys it if not people? The next pack of digital illustrations shows visual winter stories about human characters.

Some people catch Christmas mood much earlier than others. The idea is transferred in the illustration via the color contrast.

Funny skater enjoying the winter mood in a digital artwork in a playful cartoonish style.

Buying presents, choosing presents, and dreaming about presents is a great part of the Christmas season, isn't it? That's the mood shared with the illustration.

People doing winter sports always awe with their brightness. Perhaps, due to the brightly colored clothes contrasting with the fresh whiteness of snow. Or maybe that's because of the wild dynamics of the most popular winter sports. Anyway, it's easy to feel that with the artwork above.

Another popular kind of fun associated with Christmas and winter holidays is outdoor skating, right like on this bright illustration
Whatever age, gender or nature, it seems most people will never get tired of watching the snow falling. It gives us a special mood and never stops amazing us. That's the atmosphere we tried to transfer with the animated illustration, which was the test of Procreate animation functionality.

The Winter Olympics illustration features 5 popular winter sports (skating, snowboarding, skiing, ice hockey, and figure skating) performed in the harmonic color palette and composition of the Olympic ring symbol.
We hope you've also caught some holiday mood with this collection of illustrations. Also, welcome to check our big review of trends in illustration and graphic design in 2019.