Following the tradition already established in our Blog, every month we take our time to sum up what was done and set new goals. So, welcome to Tubik Monthly Review, which this time is devoted to some of our works, thoughts, and ideas published in November. And as usual, we would be happy to do it with our readers.
Traditionally, we start with the set of Dribbble shots posted by Tubik designers during the last month. Our Dribbble account got more bright works on illustration, UI design, motion and icons design. Following the links, you can see all the shots full size with their descriptions.

Media Player Concept 

Calendar App Animation 


Owl

Multimedia Icons Presentation 



Octopus Bar iPad App 

Emotional App

Start App 

Good Sign App Concept 

Free Eco UI Kit  

Also, we enriched our Behance profile with a new presentation which was featured at App Design Served.

Behance Multimedia Icons Presentation
We were also active here in the Blog, having prepared several new articles. We have shared our ideas about important features of efficient product design organized along the letters of the alphabet. They were posted in the articles ABC of Product Design and ABC of Product Design. Part 2.  Then we added the post with our recommendations about books on UI/UX design in the post Design books set: UX, UI, HCI. Improving with experts. The other post in the blog last month called Iconic Simplicity. The Vital Role of Icons was about the types and features of icons as a vital part of effective and successful UI/UX. As usual, we are always keen to share our experience and discuss new ideas as well as basics of design, so this month we are preparing new articles and case studies for our readers.
Certainly, we filled up our Instagram page with new photos featuring our everyday life and work…

… and we were active and eager to answer questions about design, UI/UX, tools, processes, and prototyping at Quora that resulted in a great number of views and gave us a chance of being helpful to those who are interested in design.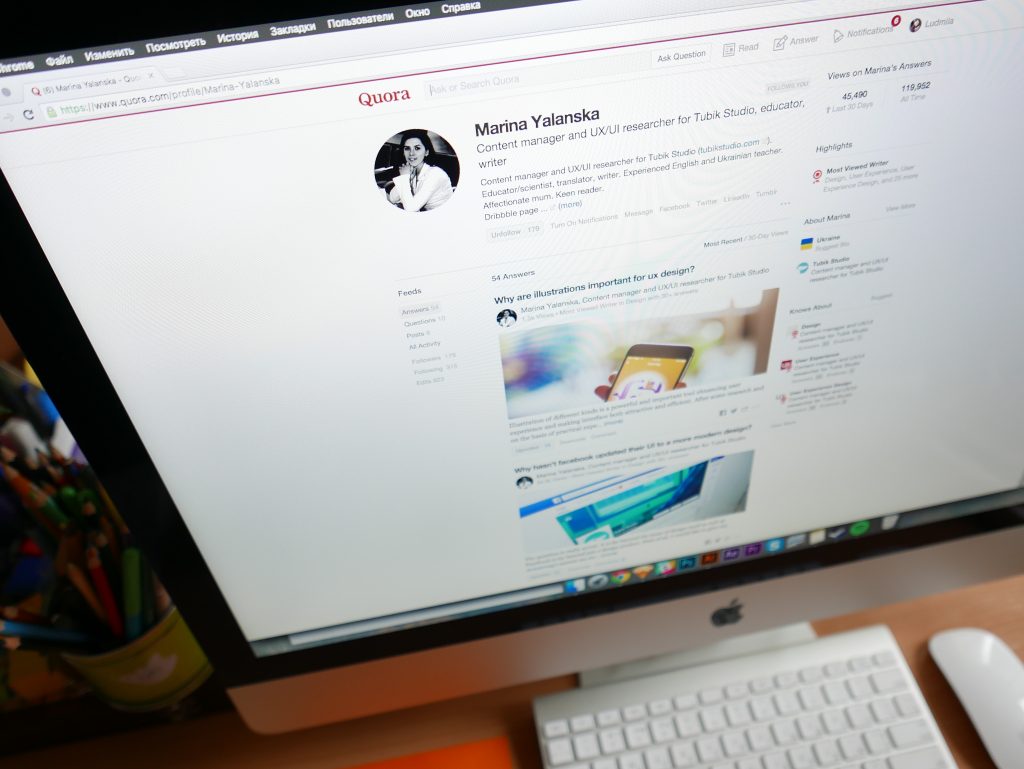 In addition, in November Tubik Studio CEO Sergey Valiukh took part at the Ping IT conference in Odessa as a speaker and told about our studio work principles and organization.

Obviously, apart from everything mentioned above, we all had interesting and complex work on various design tasks on UI/UX, logo and branding, illustrations, and motion design. One more good news about last month: understanding the integral role and importance of the correct and appropriate copy for the successful and efficient design of different products, such as landing pages or branded items, for example, we broadened our scope of services with copywriting. So the magic of words since now can be also professionally provided by Tubik Studio via copywriting tasks together with any kind of design tasks at which we are already really experienced.
So, with a new flash of inspiration and creativity, we have started the winter, looking forward to Christmas and New Year, hoping for better and being happy with a chance to do the work we love.