Whatever is the direction digital artists choose for their professional realization, one of the crucial and hardest challenges is finding own creative style. Today we are discussing this theme with Tubik graphic designer Yaroslava Yatsuba, now experienced in both traditional and digital art. She is keen to share some useful tips and practices helping designers to find and keep their own style in business and theme flat illustrations for various purposes. Let's consider what graphic designers could do so that not to sink in the variety of styles and catch their own golden fish fulfilling professional goals.

What is flat design?
Let's start with the terminology. Today, the term «flat design» is applied to graphics for numerous purposes and tasks which have common stylistic features. Flat design is the direction that found its broad and diverse expression on digital art and is famous for the minimalistic and concise use of visual expressive means. Nowadays the term is widely used as the opposite to «rich design» due to harmonic simplicity taken as the basis of this design approach. The most prominent feature which actually has inspired the name of this direction is applying flat 2-dimensional visual details as the opposite to highly realistic and detailed skeuomorphic images. Flat design has been developing for the last couple of years covering more and more fields of graphic design still finding the broadest and most diverse application in the sphere of digital design for web and mobile interfaces. This design approach is found as the style favorable for enhancing usability and visual harmony of user interfaces.
Obviously, flat design hasn't appeared out of thin air. Its roots are usually set in Swiss style which historians of the design sphere find its direct ancestor. Swiss style, also known as International Typographic Style or shorter International Style, is the direction which appeared and got its dose of criticism in the 1920s and later won its bright expression in graphic design in Switzerland of 1940-50s fairly becoming the solid foundation of graphic design of mid 20th century around the world.
Although this style got a variety of expressions in the sphere of visual design for print, like posters, stamps, postcards, book covers, magazines, etc, it significantly broadened its horizons with the era of digital design, especially in the domain of design for user interfaces. Websites and mobile applications going through the dynamic development of creative search opened the amazing and fruitful perspective for this minimalist and functional approach to design solutions. The style got the name «flat design» (or flat graphic design) which became instantly popular and started a new direction in graphic design daring skeuomorphism and «rich design» and supported with new challenges opened by the field of interaction design. The variety of design directions available and progressing these days engages flat design illustration as a flexible and artistic approach successfully winning its own place. Read more about flat design, it's history and benefits in our previous article.

How to make flat illustrations original and add them personal style?
Today, many designers try their creativity in flat illustration. To avoid getting lost in the great and increasing variety of artworks, it's vital to work out your own presentation and manner. It gets a bit more difficult in flat which is rather limited in expressive means and volumes than other styles. Yet, difficult doesn't mean impossible.
Here are the tips for creating flat illustrations from Tubik graphic designer Yaroslava Yatsuba which she got from her everyday practice.
– Step away from the simple geometrization of shapes. Take your sketchbook and a pencil and rough out quick sketches by hand. The sketch will take up the minimum of time compared to creating a digital picture. Moreover, it will help to quickly find bold lines as well as to interesting movements or poses for a character. Having made a sketch, take your time and analyze it, then try experimenting. Try hypertrophied, rounded or, vice versa, sharpened shapes – it might contribute precious details clarifying the nature of the movement or showing the character's emotional state.


– Analyze artworks by other illustrators. Don't miss a chance to understand what principles and approaches they apply. Consider which elements or color solutions made their artworks attractive to you.
– One of the factors of a successful illustration is the choice of an interesting perspective and composition. Make sure that the composition is balanced if you need to express the state of calmness – or intentionally tilted if you want to show dynamics or tension. If the composition is multidimensional, the planning should be distinctly shown: make an accent on the plan at which the major characters or elements are placed. You can also add rhythm to the composition by scaling the elements or color and tone accents.


– Having decided on the composition, imagine how the scene would look from different angles: in the perspective with the third convergence point, through a fish-eye lens, from a 3-year-old' viewpoint or in contrary how a super-tall basketball player would see it. This trick will help you to understand which of the angles will be the most beneficial for the goal and message of the illustration.

– Apply original metaphors which will help to share the idea behind the illustration. Don't just catch the first images that come to mind: the risk is high that it will be widespread and won't look original enough to be really eye-catchy.

– The thoughtfully selected color palette will help to strengthen the idea and message, it will set the appropriate mood and put accents on what is major. Keep up the tone contrast of all the composition: to check the correctness of the chosen tones, view the illustration in black-and-white mode – it should stay contrast and well-read.

– Usage of textures adds the vividness to the picture, contributes individuality and effect of "hand-made". Also, it will soften the vector images.
Textures may imitate:
real physical materials and details (such as scratches or scuff marks)
geometric details (lines, stripes, dots)
hand-made stuff with not ideally even live lines
In addition, colored photos and full-color patterns may be used to create the effect of an applique work. All the mentioned variants may be used both separately and in combination, this way developing a personal artistic style when you create flat design graphics.

6 features of a good flat illustration
Summing up all the tips, we may define the features of effective flat design illustrations.
Original stylization
Thought-out composition
Non-standard perspective
Carefully selected color palette
Applying textures
Use of metaphors
Try this checklist for your design experiments to create a flat design illustration – may be, they will lead you to the golden fish of your own recognizable style.

More examples of flat illustrations
Here are some more illustrations by Yaroslava featuring the practical cases of how the tips given above may be creatively applied. The designer shows that some limitations of this style are just another reason for trailblazing experiments with flat design colors, perspectives, characters, and metaphors.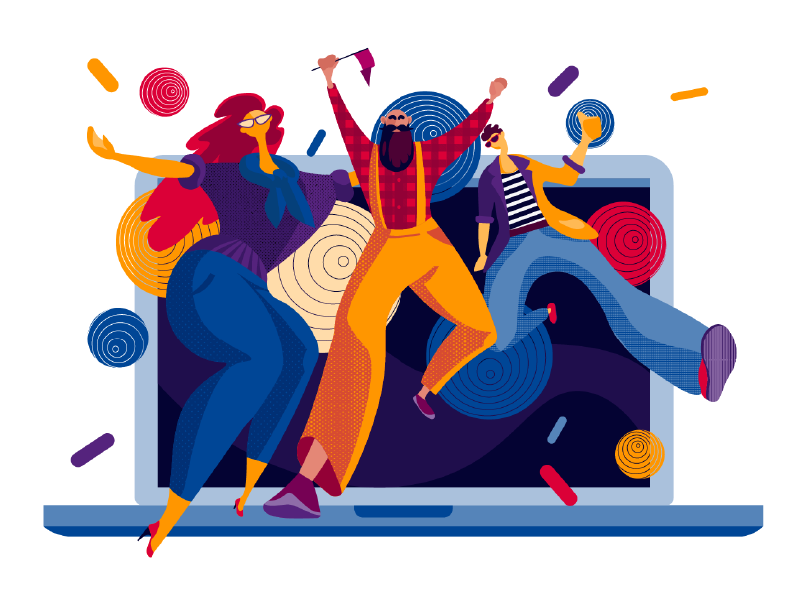 Recommended reading
Flat Design. History, Benefits and Practice
Design Glossary: Color. Terms and Definitions
State of the Art: 15 Creative Graphic Design Concepts
Modern Graphic Design: Directions and Purpose